Boiled Pork with Garlic Ginger Sauce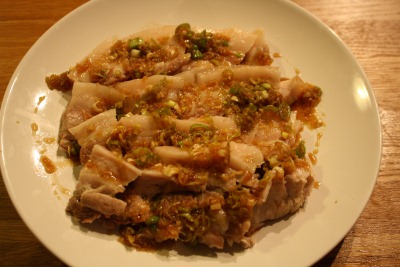 This Boiled Pork dish is very easy to make.
The sauce is the key and can be arrenged by your own way.
I just introduce my version of quite sweet and spicy sauce.
Recommend to eat with rice or some salads.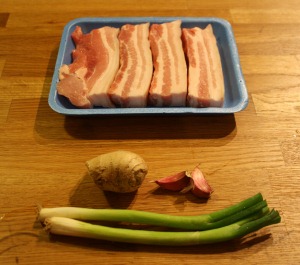 Ingredients
500g Pork (I usedpork belly, but can use pork fillet.)
2 stalks of spring onions
2 cloves of Garlic
40g of Ginger
3 Table Spoons of Soy sauce
2 Tea Spoons of Honey (or 3 Tea Spoons of Sugar)
2 Table Sppons of Hot water
-----------------------------------------
1 Table Spoons of Sesami Oil (option)
1 Tea Spoon of Oyster Sauce(option)
1/2 Fresh Cilli (Option)
Method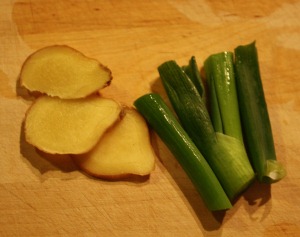 1.Chop the green part of spring onion and slice a couple of ginger thinly.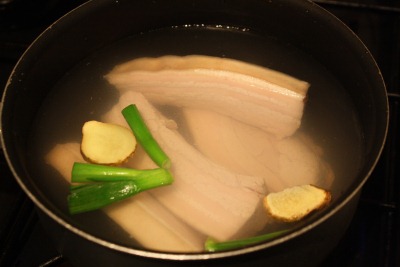 2. Put pork and green pat of spring onion and 2 slices of ginger in a deep sauce pan.
Add water until cover the pork completely. Boil for about 30 to 40 minutes until cooked.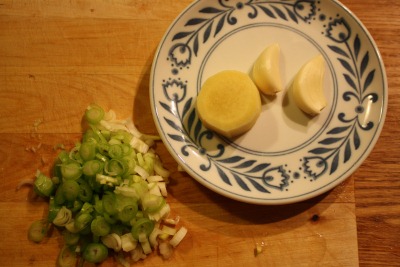 3.Meanwhile, chop the rest of spring onion and grate the garlic and ginger.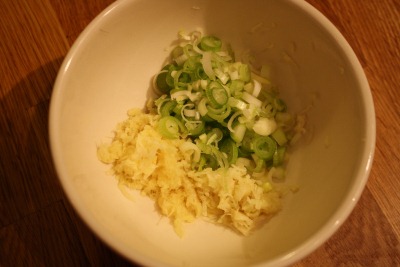 4.All put in a bawl.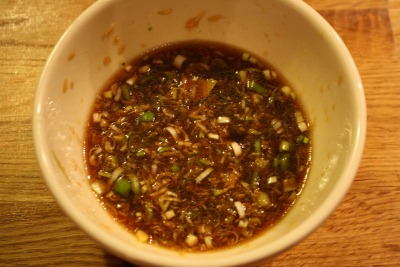 5.Add Say sauce, honey, sesami oil, oyster sauce, and hot water and taste.
If you feel it's too salty, add more water. If you feel it's too spicy, add more honey or sugar.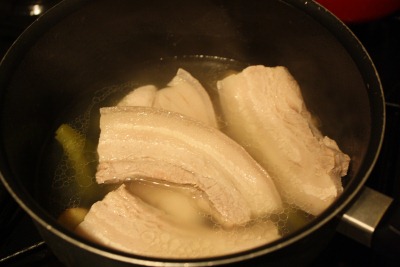 6.Make sure the pork is cooked and take out from the pan, slightly allow to cool.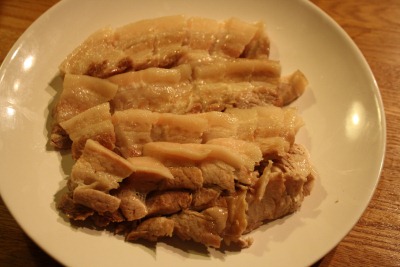 7 Try to slice diagnonaly, thinly as much as possible and make a layer on the plate.
Pour Garlic Ginger sauce all over the pork.
8. Bon Appétit!!